Prosthetics
I use many different types of prosthetics for both sport and life. For triathlon, I use separate prosthetics for the bike and the run. However, I do not use a prosthetic for the swim, as assistive swim devices are forbidden.
Running Prosthetic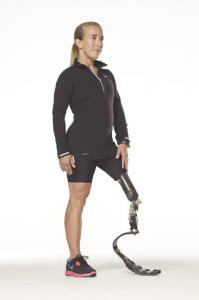 When I started running in the late-80's, I didn't have a running prosthetic, I just ran with my everyday leg.  In the early-90's, I began using the Flex-Sprint by Flex-Foot in track & field competition leading up to the 1992 Paralympic Games in Barcelona.
A lot has changed in the past 20 years. First, I am no longer a sprinter, having "reinvented" myself as an endurance athlete. Also, Össur, which acquired Flex-Foot more than a decade ago, now manufacturers an entire line of running feet, providing a lot more options than existed when I first started out.
Today, I use the Össur Flex-Run with Nike Sole coupled with the Össur Total Knee 2100 for distance running. The Flex-Run is extremely versatile and can be used for a variety of applications, whether you are running in a softball game, a 5K or a marathon.
Cycling Prosthetic
It isn't essential to have a separate cycling leg just to ride a bike. When I first started riding, I used my everyday leg and a standard bike shoe with a cleat to clip into the pedals. I tried toe straps early on but quickly learned that clipping into the pedals was much better. Especially for amputees, the direct contact with the pedal is extremely helpful.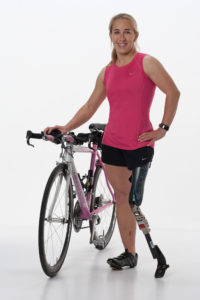 Once I got more serious about cycling and triathlon I had my prosthetist build me a special leg just for the bike. While I typically prefer the Össur Total Knee 2100, for my cycling leg, I went with the Total Knee 2000 because it is lighter. For the foot, we shortened an Össur Vari-Flex, cutting the "toes" off and bolting a bike cleat right to the bottom of the carbon foot. The socket is pretty standard; it just has a lower trim line so it doesn't rub on my upper thigh or hips when I pedal for hours. I don't make any adaptations to my bikes. However, since I am basically riding with one leg and I can't get out of the saddle on hills, I find a big range of gear is an absolute necessity.
Everyday Prosthetic
Traditionally, my everyday setup of choice has been the Össur Total Knee 2100 combined with the Össur Vari-Flex foot and Össur Iceross Liners 3mm and 6mm liners. I have used this combination for years. However, recently, I switched to the new Össur Vari-Flex XC, as I find it has a more dynamic toe-off that makes it all that much easier for me to get around while expending less energy.
Cosmetic Prosthetics
When I have a gala or red carpet event that calls for a dress and heels, I reach for my "Barbie" foot, an Össur Elation with 2.5 inches of heel height adjustability that is wrapped in a silicone cover from A Step Ahead Prosthetics. More recently, thanks to Scott Summit and the artists at Bespoke Innovations, I've added a super bling fairing to my "glam" look.
Important Links