Sarah to takeover @OnHerTurf on October 10th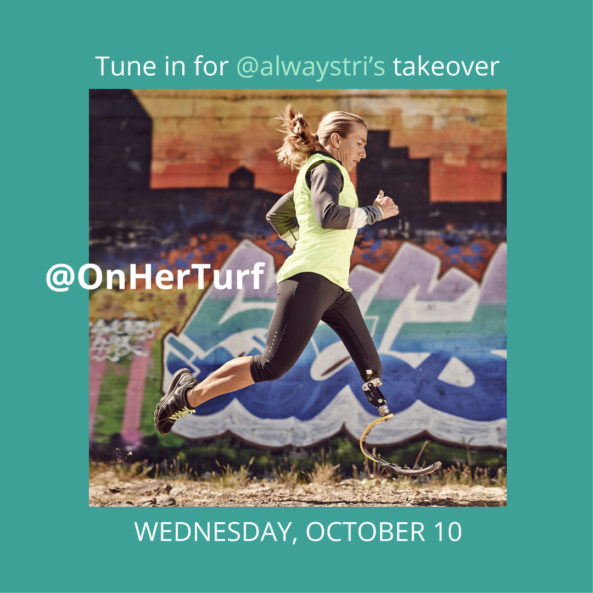 Sarah Reinertsen has been invited to takeover the @OnHerTurf Instagram account for the day on October 10th, 2018. This is only three days before Sarah arrives at the starting line to compete in the 2018 Kona Ironman World Championship. So, you can continue to follow Sarah's journey to the starting line of the race by checking in or following the @OnHerTurf Instagram page during the day.
Starting at noon (EST) Sarah's takeover of @OnHerTurf Instagram will begin and she will be posting videos and photos throughout her day, including her joining other athletes at the Master Women's Breakfast, excerpts from her interview with Bob Babbit, who is an original Ironman from 1980, video of her training for the race and a very special celebration of her 8th anniversary with her husband in Kona.
The OnHerTurf Instagram campaign is a partnership account between Refinery29 and NBC Sports. It was established earlier this year, in preparation for the Olympics, because while women make up 40% of all sports participants, unfortunately they only receive 4% of coverage. OnHerTurf is a public platform for promoting the accomplishments of female athletes across a variety of sports.
Facts About the 2018 Kona Ironman
Sarah Reinertsen, is the first female above-the-knee amputee to finish the IRONMAN World Championship which she did in 2005
This is the 40th anniversary of the Ironman Championships
This will be the largest athlete field ever at the IRONMAN World Championship, with approximately 2,500 registered competitors
28 percent of participants (685 athletes) are female
72 percent of participants (1,791 athletes) are male
Ironman distributes prize money equally to both men and women
More interesting facts about this 40th anniversary of the Ironman competition from Triathlete Magazine.